Body
George Mason University president Gregory Washington posed this question in his first letter to alumni in the Summer 2020 issue of the Mason Spirit.
"By definition, it is an expressed feeling of love, devotion, and sense of attachment to a particular place or way of life. There is so much more to being a patriot than the physical defense of our country, and here at Mason, we have a more expansive, more inclusive approach to patriotism," he wrote.
He suggested we "not deny the contradictions in our history, our community, and our own lives but…instead face them, embrace them, and grow honestly through them."
We asked the Mason Nation through email and social media what it means to them to be a Patriot. This is what they told us.
---
"Perseverance and determination. Whether it's a tough class, life adversity, or a college sport, these two words were the foundation of my time at Mason—and in life as well—and define what it means to be a Patriot."
Former Mason basketball player Charles Makings, BS Public Administration '07, is now a government consultant and CEO of his own production company. He is married to a fellow Mason alum, and they have two daughters.
---
"Being a Patriot means being in a large, ever-growing family. When I lived in Alexandria, Virginia, there were always fellow Patriots locally, and it was great getting together. Having moved to the United Kingdom, I forgot what that was like until I bumped into a neighbor down our street who graduated from Mason in the early '90s who was pleasantly surprised to see me wearing my Patriots sweatshirt. Then, oddly enough, a few weeks later [I realized] there was a fellow Patriot at work. In a city of 9 million people, still bumping into other Patriots shows the spread and reach of Mason graduates and the impact we have on the world!"
Ryan Allain, MPA '00
---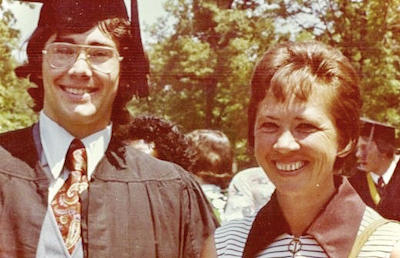 "With each day I reflect more and more on how my time at the university shaped my future, beginning with my soccer colleagues—my first exposure to a truly international cohort—and my experiences in student media and the Sports Information Office. I learned skills I continue to use in my career as a writer/journalist/editor/columnist and now (irony!) as the communications director of the Schar School at Mason. Impossible to sum up in a single word, but being a Patriot means my livelihood, my appreciation of other cultures, and my dedication to helping the university reach ever higher. Thank you, Mason."
Buzz McClain, BA '77, is the communications director for Mason's Schar School of Policy and Government, a longtime professional rugby football referee, and a freelance journalist.
---
"As a student, I had classmates from all over the world and learned about other cultures. I made lifelong friends, especially through rugby. I traveled after graduation and got involved in the culinary world. I also became an independent musical artist under the name RASCATRIPA in Argentina."
Marco Vietti, BA English '93, lives in Argentina.
---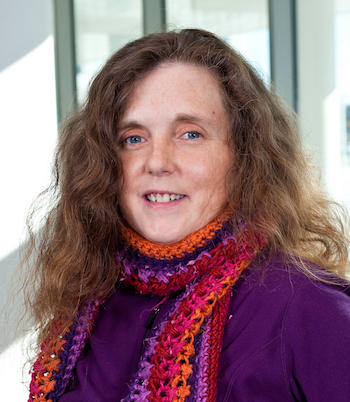 "It is being immersed in a world where humanity strives to achieve its greatest accomplishments both of mind and spirit."
Stacey Remick-Simkins, BA English '88, has worked at Mason in the English Department for more than 20 years. She is one of the founding members of Mason's Staff Senate.
---
"Tradition."
Will Thomas, BS '08, was a member of the Mason men's basketball team that went to the Final Four in 2006. He is now a professional basketball player.
---
"To have your eyes on the future, improving both commerce and society in ways that celebrate our cultures, maximize our potential, and cultivate our values."
Muoki Musau, BA Religious Studies '12, is a realtor with Howzer LLC and lives in Leesburg, Virginia, with his wife and young son.
---
"We are a Patriot Family. My husband and I both attended Mason and visit [campus] with our kids whenever we can. We go to concerts, take the kids to see Paw Patrol, or just visit and go to the bookstore to get the latest Mason gear. We love watching the school grow from being a commuter school to what it is today. We are proud to be Patriots."
Nykeya Mathes-Paige, BS Accounting '11, MS Accounting '12, is a certified public accountant specializing in employee benefit plan audits, and she also runs an Etsy shop. She has two children with her husband and fellow Mason alumnus Benjamin Paige, BFA Art and Visual Technology '13, and lives in Stephens City, Virginia.
---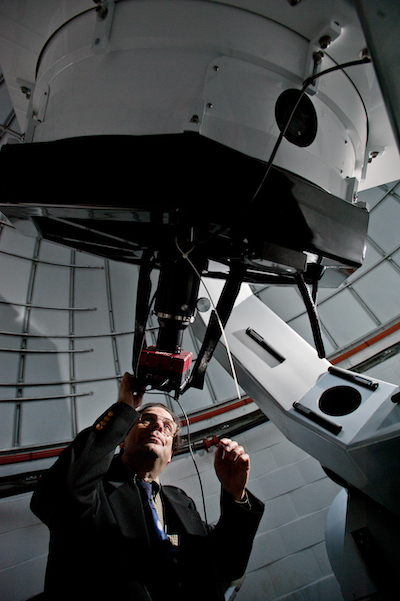 "A patriot is 'one who loves and supports his or her country.' The word was coined in 1577. In 1957, George Mason College was established. I arrived 25 years later. I completed graduate degrees and a certificate. I was student, graduate teaching assistant, graduate research assistant, staff, part- and full-time faculty. I watched our basketball team reach the 2006 Final Four and saw faculty awarded Nobel Prizes in 1986 and 2002. I saw thousands graduate in the Patriot Center (now EagleBank Arena) and watched an astronomical observatory rise from dust. For near 40 years, Mason has been my home, and I a Patriot."
Associate professor emeritus Harold Geller, MAIS '92, DA '05, directed the Mason Observatory he helped build from 2007 until his retirement in 2020. In 2008, he received the George Mason University Alumni Association Faculty Member of the Year Award. He has written books, contributed to edited volumes, and has published more than 100 papers in education, astrobiology, astrophysics, and biochemistry.
---
"Being a Patriot is like being in a big, supportive family. I've been a part of the Mason Nation for more than 20 years as a faculty and staff member and as a graduate. We're colleagues, but we're also friends who are always looking out for each other and supporting each other's initiatives. Also, in my time in the advising community, there has always been one goal: student success."
Assad Khan, MAIS '11, is the associate director for undergraduate student affairs in Mason's College of Science. During his almost 20 years at Mason, Khan helped found the Mason Academic Advisor Network, which is a support system for Mason's advising community. He won an award for advising excellence in 2018. During his time at Mason, he concurrently worked as a radio DJ at two of Washington, D.C.'s biggest rock stations, 99.1 WHFS and DC 101.
---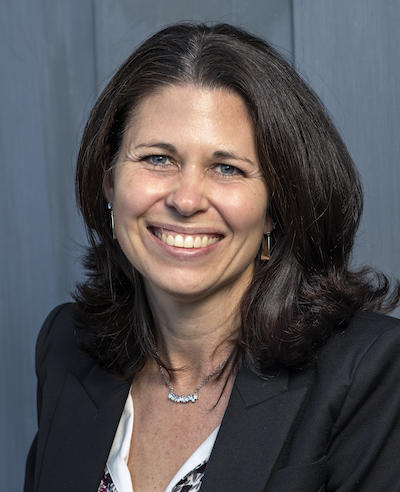 "Being a Patriot is a commitment to making a difference in people's lives and society. It is working collaboratively with others who bring diverse perspectives, experiences, and backgrounds, but share a common purpose to innovate, and always having the grit and passion to do something that is much bigger than yourself."
Amy Adams, BS Biology '03, MS Chemistry '12, is executive director of Mason's Institute for Biohealth Innovation. The proud mother of a 7-year-old daughter and 9-year-old son, she has worked at Mason since 2002.
---
"Being a fourth-generation alumnus, and the second generation to provide service to the university as an alumnus, I see the mark of my family throughout the campus ecosystem. The connection to the university is an extreme point of pride, which also carries a strong sense of responsibility within our family. It is not just about where the university has been, but also where Mason has the potential to go."
Raymond Wotring, BA Government and International Politics '05, is founder and principal of Savis Data Solutions. He's married to Amy Wotring, MPP '11, and they have two children Savannah, 7, and Davis, 4.
---
"Compassion, integrity, social justice, and commitment to being a lifelong learner are guiding principles gained during my time as a student at Mason. While a student, I served during 9/11 as a social worker in New York City providing disaster relief services, and during the pandemic I served as a behavioral health care provider in our community. Dedication to these principles learned at Mason guides my public service work daily."
Darcy Kim, BA Social Work '02, MPA '20, is a licensed clinical social worker.
---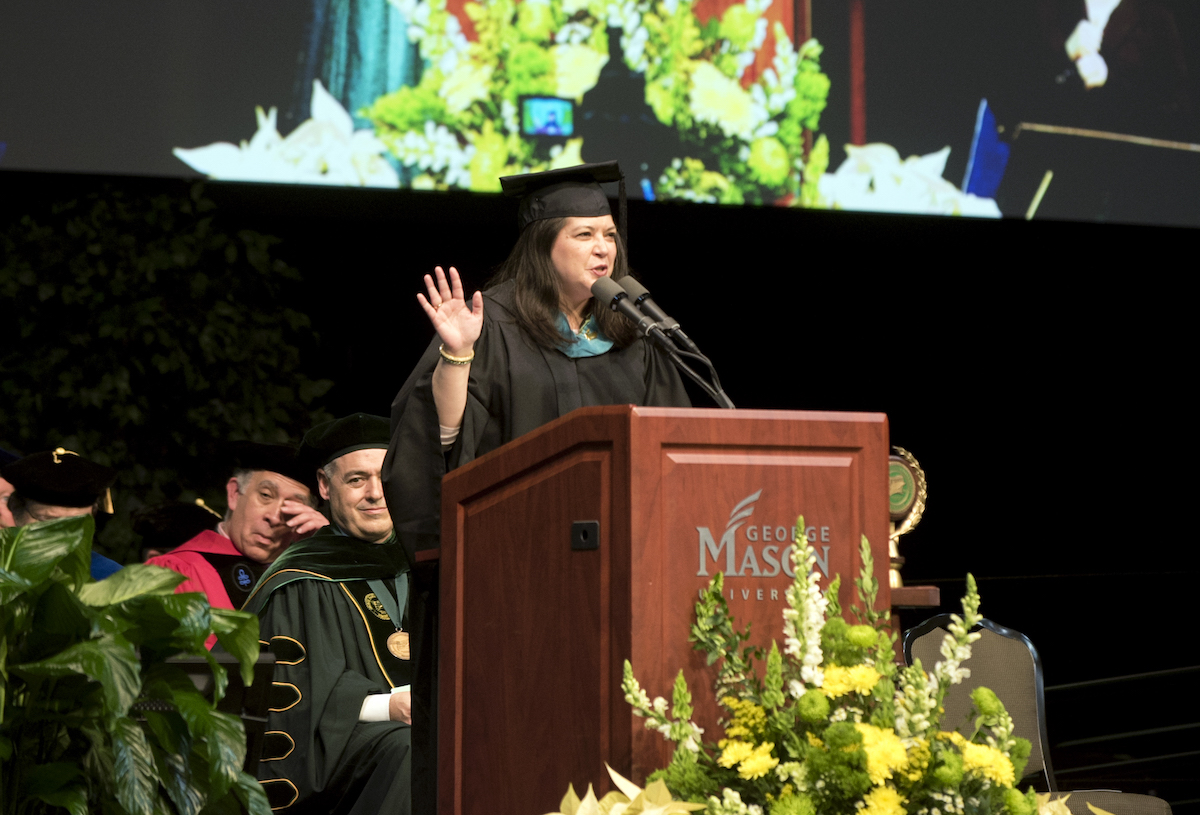 "A Mason Patriot is a member of a diverse community, with the passion to learn varied perspectives of a chosen subject. We are problem solvers, often accomplishing more with less resources. Patriots help each other and cheer for our fellow Patriots as they strive for success. Go Patriots!"
Jennifer Shelton, BS Public Administration '94, is part of a family of Patriots, including her husband and daughter. She is a past president of the Alumni Association and an active Mason volunteer.
---
"I stepped onto a campus for all. Being a Mason Patriot means you won't always agree with your peers but you will gain knowledge of how others think. I saw Mason's values in class, for diversity, LGBTQ+, BLM, free speech, women's rights, and the importance of volunteering. I'm proud to have gone to a school that welcomes all people and ideas."
Midhath Syed, BA Communication '18, is currently a graduate student in the School of Business.
---
"Knowing I went to a school that strives to better itself every year and teaches their students the same."
Pamela Balcazar, BA Biology '04, is a health scientist at the Oncology Center of Excellence at the U.S. Food and Drug Administration, where she primarily works on regulatory policy. She lives in Northern Virginia with her husband, three children, and two dogs.
---
"Being a Patriot means you are part of a community. It is full of diverse, kind, and exciting people who are welcoming and make you feel like you have a home no matter where you are."
John Markle, BA English '20
---
"To be a George Mason Patriot means for me to be declarated and accomplished."
Jai Lewis, BS Health, Fitness, and Recreation Resources '06, was a member of the Mason men's basketball team that went to the Final Four in 2006.
---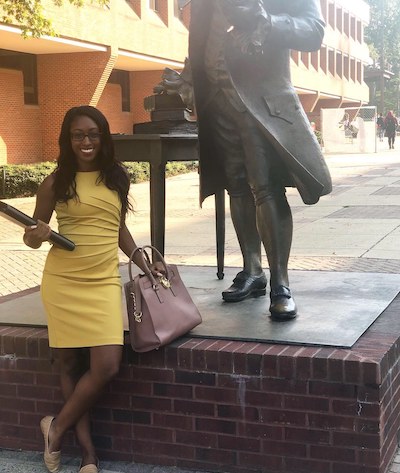 "Being a Patriot means that you are willing to take yourself out of your comfort zone—whether it is in the classroom or on campus by being involved in one of the many clubs and organizations. Once enrolled in Mason you are a part of a unique and diverse community of individuals from all over, not just Virginia."
Jasmine Young, BA Integrative Studies '14, is a School of Business adjunct faculty member, a government contractor, and owner of two Virginia LLCs.
---
"Being a Patriot to me is an ever-evolving definition as the school grows, and as I grow in my career and life the meaning continually transforms, which I love! The foundations, however, have never changed. Being a Patriot is about community, diversity, inclusion, access to excellence, commitment to each other, endless opportunities, putting others above self, all while making a positive impact and creating a brighter tomorrow!"
After a 27-year career at Deloitte, Christine Landoll, BS Accounting'89, MS Taxation '92, began teaching as an adjunct faculty member in the School of Business and later joined the school in the full-time role of director of business engagement and professor of practice in 2019. She is the president-elect of the Mason Alumni Association.
---
"For me, being a Patriot has meant lasting relationships and pride in the university I graduated from. I love meeting fellow alumni and finding ways to connect with others who have graduated from Mason."
Jamie Heagy, BS Management '05, works in learning and organizational development. In her spare time, she and her husband take advantage of all their hometown of Tampa, Florida, has to offer.
---
"I really identify with being an athlete and student and then a graduate of what was, at the time, almost exclusively a commuter school. The alums are the lifeblood of the reputation of the school, and I'd like to think I've done and am doing my part to advance the ever more impressive reputation of the university."
Former Mason baseball player Steve Kann, BA English '85, is an investment banker, advisor, and investor. The married father of four is still playing baseball at age 57.
---
"Opportunity to commit to a larger world through the [George Mason University] universe. As a small-school alum (Carter School), we are in a unique and special program that punches above its weight."
Timothy Plum, MS Conflict Analysis and Resolution '16, is a webmaster, game designer, world traveler, and peacebuilder. The father of two has been married for 34 years.
---
"Being a Patriot for me is to be kind, be a leader, and help the community!"
Yoshie Davison, MSW '09, is chief of staff at the American Psychiatric Association. She is also vice president of the LIVE committee of the Mason Alumni Association. Davison grew up in Alaska and likes to hike and have fun with her rescue dog.
---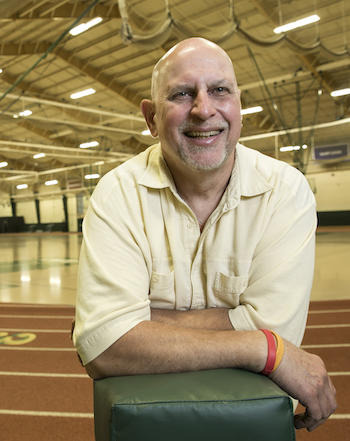 "Mason has been a part of my life for 52 years. I am the first of eight in my extended family to be a Mason alum, including both my children. The value of my degree from Mason stood me in good stead during my career and now, as a retiree, I continue to take classes at Mason. Go Mason Nation!"
Mark Monson, BS Biology '74, is retired from the Virginia state government and serves as a member of the Virginia Board of Nursing.
---
"Being a Patriot means being eager to learn, eager to help, eager to be a part of something bigger than yourself."
Mary Bramley, BA History '07, works in Mason's Advancement Office as the director of donor relations and stewardship. She plays viola, sings in a choir, and serves on the board of the McLean Symphony. She also volunteers with various groups focused on solving food insecurity in the Washington, D.C., area.
---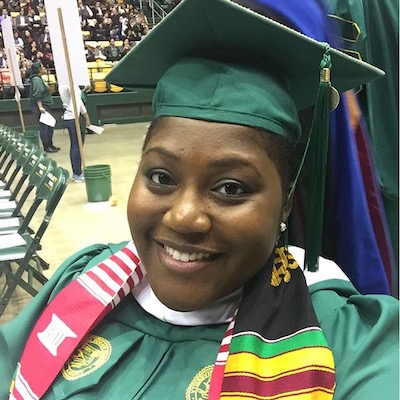 "Attending Mason was transformative and exposed me to a world of opportunity and lifelong friendships. As an undergrad, graduate student, and current employee, witnessing the evolution of the 'school behind the trees' has been astounding, and I know we're just getting started."
Janae D. Johnson, BS Psychology '11, MAIS Higher Education '15, is the assistant director of Mason's University Information office, a UNIV 100 instructor, a student organization advisor, president of the Black Alumni Chapter, and a member of the Mason Alumni Association board. Outside of Mason, she is active with her sorority Delta Sigma Theta and various church ministries.
---
"When I applied to law school, Mason's law school was still young. I managed [to get] a seat in the Pre-Admission Summer Trial (PAST), a unique program for those with potential but lacking perfect grades. As usual, Mason recognized untapped potential. I graduated from PAST at the top of the class, was admitted, and have been practicing law in Northern Virginia since 1988. Being a Patriot means everything to me—Mason gave me my career, and I continue to give back."
Brian Drummond, JD '88, has served as president of the Mason Alumni Association, is a Mason Society Donor, and is currently on the advisory board for both the Patriot Club and the Green Machine. He has held season tickets to Mason basketball for 34 years.