Celebrate with Mason as we plan a yearlong calendar of 50th-anniversary events.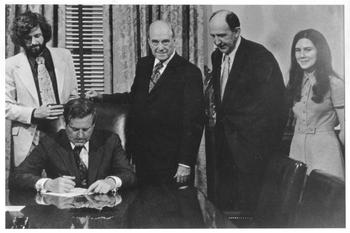 On Friday, April 7, 1972, a group from George Mason College met with Virginia Governor A. Linwood Holton Jr. in Richmond. They were there to witness the governor sign into law Virginia General Assembly Bill H 210, which separated the college from the University of Virginia. With the stroke of a pen, George Mason University, as we know it today, was born. 
This year marks 50 years from that day, and Mason is celebrating its first half-century and setting the tone for the next 50 years with a yearlong celebration that includes a week of festivities in April. Beyond that week, the university is incorporating the anniversary into many events throughout the year.