Body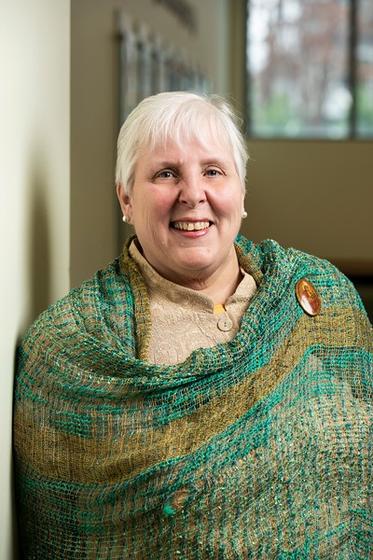 After more than 30 years of service, Molly Grove, the associate director for Community and Local Government Relations at George Mason University's Science and Technology Campus, is retiring.
Grove's Mason journey began in 1992 as a part-time coordinator, planning the university's Commencement and convocation ceremonies. Over the years, she has earned a reputation as a "social butterfly" and the "face of the SciTech Campus."
"Molly has been the SciTech Campus' lifeline to the community, working with business, government, and education leaders since its beginning. She's left an indelible fingerprint on SciTech," said Ron Carmichael, the campus' director of administration and operations.
In addition to relationship-building, Grove leads event planning at SciTech. She was especially busy in the past year, coordinating the triple groundbreaking of the Life Sciences and Engineering Building, Innovation Town Center, and University Village in honor of Mason's 50th anniversary.
"There have been so many wonderful memories during my time at Mason," Grove said. "I will always look back at representing the university in the community with great affection."
Grove served on many business and civic boards on Mason's behalf. She was involved in the launch of Leadership Prince William, a nonprofit organization focused on training individuals and organizations to enrich the community through collaborative leadership. In 2008, she was a member of Leadership Prince William's introductory class. She went on to serve as co-chair of its Board of Regents.
Mason's rewarding relationship with the Prince William Chamber of Commerce is due largely to Grove's efforts. As chair of the Prince William–Greater Manassas Chamber of Commerce, she co-managed the 2010 merger of that chamber with the Prince William Regional Chamber of Commerce.
"The Prince William Chamber has been a great partner for Mason," Grove said. "Many of our efforts at SciTech were supported by the chamber including Mason's 50th Anniversary Celebration that was held last fall."
One of Grove's chief accomplishments was the conceptualizing of a statue to honor former senator Charles J. Colgan for his 40 years of service in the Virginia Senate. Colgan was a staunch supporter of higher education and played a pivotal role in securing land for the establishment of the SciTech Campus.
The statue's unveiling in 2016 coincided with Colgan's 90th birthday. Seven former Virginia governors, two former lieutenant governors, and a congressman were among the distinguished guests in attendance at the dedication ceremony.
"Seeing the smile on the senator's face when he stood next to his life-size statue at the installation was an unforgettable moment," Grove said.
With retirement ahead, Grove plans to spend more time in her garden, crafting, and improving her golf game. She's especially looking forward to doing some landscaping.
"I love getting on my John Deere to mow my three acres," she said.
"Molly has provided me with advice and guidance every step of the way," Carmichael said. "I wish her all the best in this new phase of her life. She will definitely be missed."