Body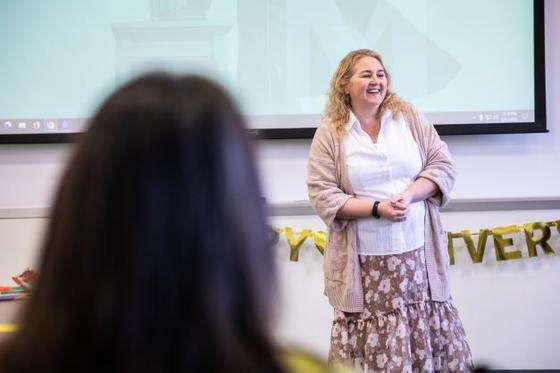 They say it takes a village to raise a child. But sometimes, parents are left wondering when that village is going to show up.
In 2003, Heather Aleknavage was a new mom doing her best to manage parenting and the demands of her job as an administrative professional at George Mason University. It wasn't easy.
"My son, Jeb, was born with a congenital heart defect and had to have surgery when he was 10 days old," said Aleknavage. "When I returned from maternity leave, sleep deprived with a still-recovering infant, I was really struggling to keep it together."
These challenges drove Aleknavage to seek support from others who could relate to her experiences. But most local support groups at that time were geared toward stay-at-home moms. No such group existed on campus, either—so Aleknavage decided to change that.
With support from others at Mason, Aleknavage founded the Working Moms Support Group, which celebrated its 20th anniversary on February 23. The group supports Mason faculty and staff through all stages of their parenthood journeys. Membership has ebbed and flowed over the years, and meetings usually include about a dozen attendees. The network is large, though—the group's contact list includes nearly 200 employees. Aleknavage, now the office manager and human resources coordinator in the Office of Sponsored Programs, still leads the group today.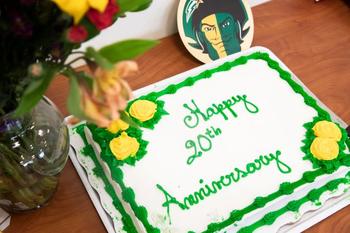 It takes courage to seek out that "village"
Before starting the group, Aleknavage presented her idea to other employees at a Staff Senate meeting. Stacey Remick-Simkins, program coordinator in the English Department, was chair of the Staff Senate at the time.
"Heather was on the forefront of advocacy for mothers who were working [on campus] full-time and juggling the challenges of work," said Remick-Simkins. "Her leadership on behalf of working moms continues to be as relevant and important as it was many years ago."
Others on campus rallied behind the idea. Nancy Hanrahan, associate professor of sociology, was director of the Women's Center and the Women's Studies Program at the time (now the Women and Gender Studies Program and Center). Hanrahan was thrilled when Aleknavage approached her with the idea of starting a support group for working moms.
The group needed a place to hold its meetings, which the Women and Gender Studies Center provided—and still does today. The center offered a visible space for the group to convene, which Hanrahan said was important in drawing attention to a constituency that was often overlooked.
"There's often a culture of 'leaving motherhood at the door' when you arrive at work, and that isn't how life really works," said Hanrahan. She hoped that the group would help people build bridges between their working lives and home lives.
Progress for working parents
Benefits and support structures for working parents continue to evolve. The Working Moms Support Group has played a vital role in these efforts at Mason. The group has advocated for telework/flextime options, parental leave, lactation spaces, the expansion of child care options on campus, and more.
"They were instrumental in getting a standardized parental leave policy—with an accompanying work relief plan—approved for instructional faculty," said Adrianne Jones, faculty/staff engagement coordinator in Human Resources. "Before the policy was introduced, nine-month faculty had to individually negotiate with their deans and the amount of leave allowed varied greatly across the schools. I think it's fair to say the group has created a supportive community for working mothers and has led the way to make Mason a more family-friendly institution."
The group has also partnered with the Working Dads Group and advocated for student parents at Mason. "The number of student parents who have indicated an interest in joining [us] has grown tremendously since our group was founded in 2003," Aleknavage said. "Their needs mirror those of faculty and staff, and they are driven to continue their education while raising their children."
Celebrating 20 years of support
The group recently celebrated its 20th anniversary. Jaime Lester, one of the group's long-time members, served as guest speaker. Lester most recently was associate dean of faculty affairs and strategic initiatives in the College of Humanities and Social Sciences and a professor in the Higher Education Program.
The group does far more than providing direct support for its members, Lester said. It has served as a grassroots advocacy group for working parents at Mason.
"The Working Moms Group continues to play an essential role in making the needs of parents at Mason more visible," Lester said. "From catalyzing the creation of additional leave for faculty and staff to advocating for more lactation rooms in new buildings, the group is an exemplar of bottom-up change for Mason and beyond."
Helping parents during the pandemic and beyond
The COVID-19 pandemic brought new challenges to parenting. Julia Tungli, instructional technologist with Information Technology Services, arrived at Mason in December 2019, shortly before the pandemic began. She was returning to work after spending a few years as a stay-at-home parent.
Tungli found out about the Working Moms Support Group before she arrived. "I was nervous about the new job, but I was more nervous about juggling work life with parenthood," said Tungli. "Just knowing there was a group gave me comfort."
In 2020, the Working Moms Support Group shifted to virtual meetings while many faculty and staff worked from home. "Working Moms has always been time I've taken for myself," Tungli said. "My kids were there for a couple of meetings, but I tried to set aside the time to decompress and [engage] with my fellow working moms."
Tungli's children are four and six years old now, and she predicts that she will remain an active member of the Working Moms Group for years to come, "until parenthood isn't at the front of my mind in everything I do," said Tungli. "So maybe another couple of decades?"