Body

George Mason University's iconic cherry tree grove by Mason Pond turns 30 this year.
Officially known as the Memorial Cherry Grove, the first trees were donated in 1993 by the members of Club Nippon, a student organization for those who shared an interest in Japanese language and culture. The students, who wanted to do something different for Mason's annual International Week, decided to make an enduring contribution to the Fairfax Campus by giving living symbols of Eastern Asia—cherry trees.
More than 30 trees were purchased from Merrifield Garden Center, according to a 1993 news report. Other international student organizations and several campus offices contributed to the purchase. The students planted one of these trees by the pond and Cross Cottage during International Week, while the Facilities Planning Office integrated the others into long-range plans for the area.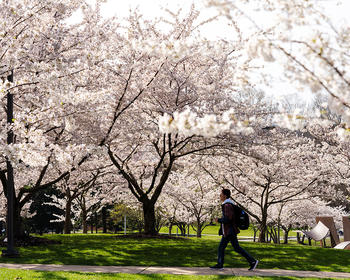 The collection has grown from the original 30 to now 61 specimens. Dogwood and other hardwood trees indigenous to Virginia were added to the grove later, as well as several trees donated in memory of loved ones.
Mason certified arborist Erich Miller, the grounds program manager for Mason's Facilities Management department, identifies the trees in the grove as Yoshino (Prunus x yedoensis) cherry trees, and says the grove gets a lot of interest this time of year.
"It has been cultivated and expanded to mirror the fantastic floral show that's currently happening at the Tidal Basin downtown," said Miller, who has worked at Mason for 17 years. "We are fortunate enough to be here in Fairfax and enjoying the same type of show."
Miller also welcomes the cherry blossom attention because it helps raise awareness about  Mason's Arboretum. In 2021, the university earned Level II accreditation from the international accreditation program ArbNet.
While many universities set aside a certain number of acres to dedicate to an arboretum, Mason did things differently and chose to make all of its campuses and locations, including the Point of View International Retreat and Conference Center and the Potomac Science Center in Woodbridge, Virginia, part of its collection.
Being a Level II Arboretum means the university is identifying and showcasing a collection of more than 100 native and non-native trees and shrubs in these spaces. Visitors can enjoy the Arboretum in person or online using the interactive Arboretum map, which showcases each specimen.
As the university's arborist, Miller is responsible for the continued health and vitality of Mason's trees.  And when one goes away—whether because of illness or construction, it is replaced. In many instances, it is replaced with the same type of tree or another Virginia native species. If the new tree isn't planted in the same spot, know that it lives in another spot in the Arboretum.
"It's my responsibility to make sure that the current footprint stays in place or is improved," he said.
Fun fact: There is a master tree list where Miller said they document as best they can every tree within the university canopy. That's a lot of acres and a lot of trees.
Although areas like the Memorial Cherry Grove provide a beautiful spot for a picnic, a marriage proposal, or just a relaxing place to study, the true purpose of an arboretum is education. Mason's Memorial Cherry Grove has also come to be used as one of the Institute for a Sustainable Earth's Living Labs.
Not only have faculty members in Mason's Department of Statistics been holding a yearly international Cherry Blossom Prediction Competition, Mason statistics students have been collecting and analyzing data on the bloom date of the cherry trees at Mason Pond and integrating this information with Mason's local meteorological data, tracking variations over time to build a more accurate model for the bloom date. 
"Part of the decision-making process for categorizing the entire university as the Arboretum is that we're a public university.  People are welcome to come here and visit any time," said Miller. "It's a learning opportunity for not only the students, but for anybody who visits here."
Read more about Mason's trees