Body
For almost 10 years, Melissa Cannarozzi has worked as the production coordinator and digital collections manager in George Mason University's Office of University Branding. She has spent half that time taking classes part-time and working on a master of arts in history with a concentration in applied digital history, which she will receive this month.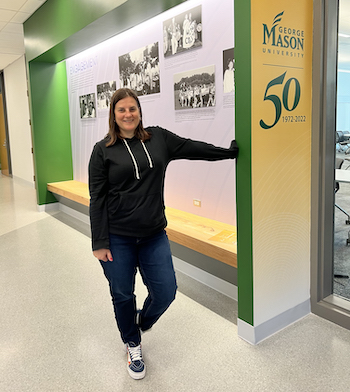 For an internship class, Cannarozzi curated the exhibit, Past, Present, Future: Mason's Core Remains Constant, which is currently installed on the ground floor of Horizon Hall on the Fairfax Campus. The exhibit celebrates Mason's first 50 years as an independent university using photographs from the University Libraries' Broadside Photograph Collection to illustrate student life on campus then and now.
To create the exhibit, Cannarozzi said she looked at more than 55,000 black and white images captured by Mason students working for the Broadside student newspaper from 1973 to 2001.
"I was trying to create something that would appeal to current students," said Cannarozzi of the planning. "I was surprised so many Mason alumni showed up at the opening [of the exhibit] and actually knew people in the photos. I'm glad people are able to connect with the exhibit."
What is your best memory of Mason? 
I thoroughly enjoyed the Department of History and Art History Brown Bags that I have attended. During the pandemic lockdown, I spent hours learning about the extended family of George Mason IV, George Mason University's namesake, by transcribing and annotating sections of an account book and am proud to be included in the digital history component that can be found at the University Libraries through the Center for Mason Legacies. But my favorite memory was the after-hours, behind-the-scenes visit to the National Museum of African American History and Culture with Robinson Professor Spencer Crew's Museum Studies class.
How have you grown while at Mason?
It wasn't always easy balancing working full-time and taking classes but the history program challenged me to think differently and approach problems in a more analytical manner. Along the way, my writing skills improved significantly. Two diverse internships, one creating a secondary exhibit for the 50th anniversary of George Mason University that appeared in the hallway of the lower level of Horizon Hall and featured photos from a digital collection of images from Broadside, Mason's student newspaper from 1969 to 2014, and the other was working for R2 Studios, the podcasting division of the Roy Rosenzweig Center for History and New Media, enriched my experience and helped me grow immensely.
What is your best piece of advice for incoming students? 
Meet with you advisor regularly to plan for classes. Use the resources the university has to offer, whether it is connections to jobs through professors or a free subscription to LinkedIn Learning.
What's next for you? 
I love working at Mason! I'm looking forward to forging a path of new opportunities in the office. I can't wait to fill up my weekends with daytrips.
Read more Graduation stories