Body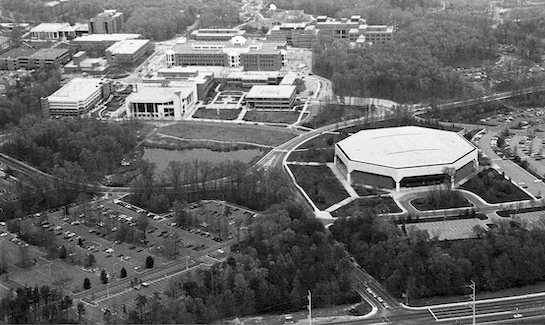 One of George Mason University alum Neil Adams' most memorable moments as a professional photographer came while he was working for what was then Mason's Office of University Publications in 1995.
There was a Huey helicopter on campus for a Reserve Officer's Training Corps (ROTC) event.
"I was always one with the attitude of if you don't ask, you'll never get," Adams said Adams, who graduated from Mason with MA in visual information technology in 2001. "So I walked over to the officer, told him who I was, and asked if there was a possibility they could take me up to take some aerials of the university. They said, sure, you just have to put on a uniform. They gave me a uniform, I went to my office to change, and they took me up."
Adams, who worked at Mason from 1991 to 1999, said they flew about six or seven loops around the Fairfax Campus while he took photos.
"I had a harness on, and I was hanging out the side of the helicopter," he said of the moment.
Photo credit: Neil Adams