Body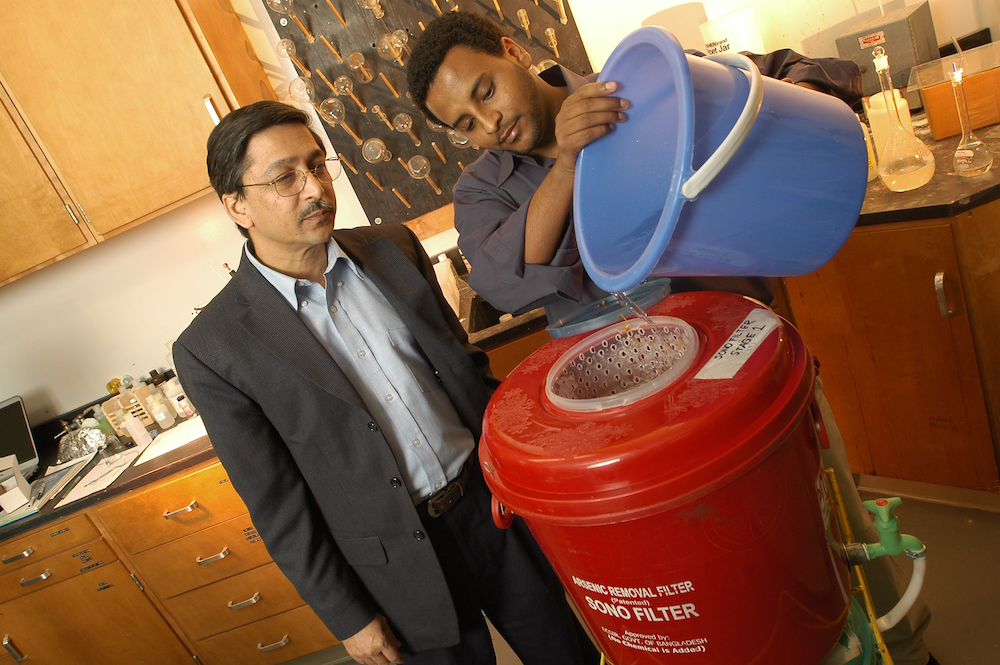 George Mason University chemistry professor Abul Hussam won the $1 million Grainger Challenge Prize for Sustainability Gold Award from the National Academy of Engineering for his inexpensive water filtration system designed to remove arsenic from drinking water in his native Bangladesh.
In some developing areas, village water wells often contain the poisonous element arsenic. In Bangladesh alone, more than 18 million people daily drink arsenic-contaminated water. For Hussam, this threat hit close to home. After years of research and testing, Hussam and his brothers developed the Sono filter, which costs only $35 and lasts at least five years. More than 250,000 of these filters can be found in homes, schools, and businesses in Bangladesh, Nepal, and India.
His invention also garnered him the Bangladesh American Society for Humanity Award and led Time magazine to name Hussam one of the 2007 Global Heroes of the Environment.
Hussam, pictured here (left) in 2007 with graduate student Kirubel Assegid and the Sono filter, is director of the Center for Clean Water and Sustainable Technologies in the College of Science.
Read more about him in the Spring 2007 Mason Spirit.
Photo credit: Evan Cantwell/Creative Services